The Healing Power of Nature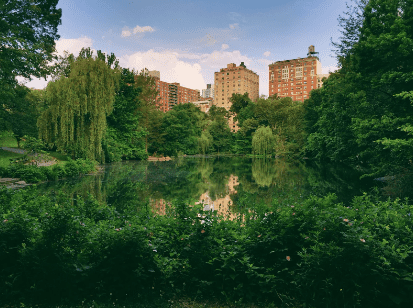 Growing up in the proclaimed "Concrete Jungle," I never had much fondness for nature or the great outdoors. Despite living in Staten Island, the borough with some of the most green spaces, the extent of my nature experiences stopped short of heading to the local park or perhaps visiting the nearby -and unswimmable- Midland Beach.
When I went away to college in the Hudson Valley, I fell in love; the sprawling mountains, Autumn foliage, and hidden gem trails. I even bought hiking boots! My friends and I would spend hours hiking in the secluded outdoors, going for sunset walks, visiting local swimming holes or cliff-jumping from waterfalls. It was hard for me to fathom that this was the same New York as the one I grew up in.
Once COVID hit during my final semester, I took this newfound time as an opportunity to make the most of nature before heading back to the city for graduate school. While recreational activities shut down and there was little to do, I knew the outdoors was something I could rely on. I made it my goal to visit every hiking trail within a 30 minute drive, marking off each on my list. I loathed going to the gym and strenuous exercise on a treadmill, but I could walk for hours and hours. Some of the deepest talks with friends would be on these hikes, as well as reflecting on my own existence. I left each time feeling refreshed, accomplished, and calm.
When one thinks of all that New York City has to offer, greenery and nature is often not at the top of the list. However, New Yorkers can also reconnect with nature, even within the Big Apple. As Spring rolls around, days are longer and weather is better, leaving much more opportunity for self-care in the form of nature.
Beyond entertainment, exercise and simple recreation, being outdoors also provides psychological benefits. Research has found that even just small amounts of time spent outside may result in increased happiness, improved life satisfaction, positive affect, and reduced stress levels1. Getting out in nature can help facilitate relationship building and social connection. Contact with nature and greenspace also combats seasonal depression, particularly during the transition to longer Spring days and moving away from the cold, dreary Northeast Winter.
There's many different options for reconnecting with nature in New York City. Outdoor parks are free for all to use, making for a cheap and fun day with loved ones. Another option is making a day to explore areas you have not visited before. Staten Island is an often forgotten option, but offers the most greenspace when accounting for its size. Perhaps taking a scenic ride on the (free) ferry and exploring the various parks Staten Island has to offer.
If you're feeling adventurous, try some of New York's numerous upstate hikes. My personal favorites are Franny Reese State Park, Peach Hill Park, and Minnewaska State Park. There are also outdoor art museums, such as Storm King Art Center, Art Omi, and Opus 40. The New York Botanical Garden in the Bronx is another great option. Check the NYC parks department website for more information on local parks and outdoor recreation near you.
If you cannot make it outside, try bringing nature to you. Watching videos and looking at images of nature in combination with outdoor noises (e.g., birds and crickets chirping, ocean waves crashing, etc.) can help relax your nervous system. In any case, consider reconnecting with the great outdoors this Spring and working it into your self-care/wellness plan.
1Weir, K. (2020, April 1). Nurtured by nature. Monitor on Psychology. Retrieved April 8, 2022, from https://www.apa.org/monitor/2020/04/nurtured-nature